TRUCKADS Invisa-Frame Kit
Standard Sizes and Prices
Vinyl Banners
Installation Video
Photo Gallery
Installation Manual
Frame Strength Test
Frame Removal
Lifetime Warranty
Frame Patents
Testimonials
FAQ


FACTS ABOUT TRUCK ADSŪ BANNER FRAME SYSTEM

TRUCKADSŪ FLEET GRAPHICS INVISA-FRAME SYSTEM SAVES YOU FUEL AND MONEY. TRUCKADSŪ patented, banner frame system is the lightest weight fleet graphics system on the market. Heavy metal systems due to added weight, cost up to $952 per year in spent fuel. More about the frame system.

TRUCK ADSŪ banner track system does not damage trucks (no holes) and is legal. It fully complies with USDOT truck width restrictions.

TRUCK ADSŪ INVISA-FRAME components are tested safe & stronger than METAL!

PATENTED LIGHT WEIGHT SLIM DESIGN. Slim profile frame projects just 3/16" from mounting surface.

Safe in extreme weather conditions and high speeds.

Easy to remove TRUCK ADSŪ permanently attached INVISA-FRAME.

Compare TRUCK ADSŪ INVISA-FRAME with competitor's outdated metal technology.

TRUCK ADSŪ INVISA-FRAME & Banners ~ LOW PRICE GUARANTEE!

More facts about our banner mounting frame system.

Standard and custom frame sizes shipped same day or next day. No Up Charge for Custom Sizes!
The strongest commercially manufactured truck media frame system and heavy duty 18 ounce vinyl with scrim.
DIY DO IT YOURSELF
Easy to install. Never drill a hole
or damage your truck when you
install the TRUCK ADSŪ Frame Kit.
The only tools you need!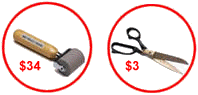 Banners and Frames on
both Sides of a 16' Box Truck
LESS THAN $1,800
180" Wide X 88" High Full Color
PRINTED VINYL BANNER AND
TRUCK ADSŪ FRAME KIT
Compare Decals at $3300.00 (Save $100's)
The Invisible Media Frame SystemŪ
America's premier truck wrap kit and
the only truck advertising frame system
in the world that is completely invisible
when the banner is attached.
Click Here to Order Online - Standard and Custom Sizes

The Invisible Media Frame SystemŪ
Buyer Testimonials
See Standard Banner and Frame Kit Prices
Installation Options:

Do it Yourself

Hire a Wrap Company

Hire TRUCKADSŪ
Avoid Labor Intensive Hours Associated with Metal Truck Signage Frames

No more drilling, sawing, screwing, grinding, refinishing or clean-up with our easy installation system!
The TRUCK ADSŪ INVISA-FRAME Kit is patented in the U.S. and Canada. It is the only "completely invisible" vinyl billboard banner frame track system commercially available for signs on semi trailers and straight truck bodies. It is the next generation truck wrap kit, attached only with adhesive. Time consuming labor (drilling, grinding, screwing and clean-up) associated with other interchangeable truck signage frame systems is eliminated. Damage from adhesive truck decals is eliminated, too.

Also, the system is popular with grand format printers of large advertising banners that require attachment to fixed walls. TRUCK ADSŪ billboard banners appear "frameless" and the "stick and peel" technology does not damage the substrate.
Banner Frame Kit - So Easy you can Do it Yourself (DIY)
TRUCK ADSŪ INVISA-FRAME Kit for truck side advertising, wallscapes and many indoor and outdoor large format advertising applications come in easy to install kits and include the FRAME, SECUR-TABSŪ and ACTIVATOR™.
TRUCK ADSŪ patented frame is a rivet-free, bolt free, screw free, banner frame. Our vinyl banner media frame system is stronger than metal banner frame connections. Our trailer frame kits are made from a hard durable polymer that affixes banners invisibly to trucks, buses, walls, billboards and more. Incredible adhesive strength guarantees a secure bond of the truck banner hardware in temperatures ranging from -40° to 200°F. The vinyl banner can be reinstalled 100's of times and adhere to metal, fiberglass and other non-porous surfaces for long term reusability.

Installation time for the TRUCK ADSŪ system after the mounting surface frame has been installed is cut in half when compared to typical metal billboard frames. It is quick and easy. A two-three man team can complete a new frame installation on a 53 foot semi-tractor trailer in as little as 1 hour per side.

Frame removal is even quicker. One person can remove a 53' banner in 15-20 minutes. Besides trucks, vans and walls, our frame kits make great bus AD frames. Once installed, the AD frame and banner projects just 3/16" from the mounting surface and it is completely hidden (invisible) because the banner covers the frame!
SECUR-TABSŪ combine safety and esthetics to make the TRUCK ADSŪ INVISA-FRAME Kit the gold standard of truck wrap kits.
TRUCK ADSŪ patented frame system with SECUR-TABSŪ fasteners hold 50 lbs. of "sheer" weight per square inch of surface area. That's a lot of holding power! SECUR-TABSŪ are the secondary locking device that prevents the migration of the snap lock frame due to the constant vibration of a moving truck. SECUR-TABSŪ slide lock technology is easy to attach and detach banners as often as you like. The frame system is reusable 100's of times!
The frames were successfully tested on trucks with speeds up to 75 mph for consistent periods and 120mph impact speed with 2 vehicles passing very close to each other. Aerodynamic and mechanical loading tests that were conducted, concluded the frame held strong at simulated speeds up to 140 mph and simulated distances up to 200,000 miles. All TRUCK ADSŪ Frame Kit components have successfully withstood the test of real time miles (284,000,000 miles over 10 years) in normal and extreme weather, including rain, high winds, extreme heat and extended periods of freezing temperatures.

"The frame adhesive was put through rigorous strength tests by an independent engineering and testing firm."
USE ONLY TRUCK ADSŪ CERTIFIED FRAME KIT FOR BANNERS ON VEHICLES. KIT INCLUDES TRUCKADSŪ PATENTED FASTENER TECHNOLOGY, PRODUCT LIABILITY INSURANCE AND A LIFETIME REPLACEMENT WARRANTY. COMES COMPLETE AND READY TO INSTALL ON SMOOTH, NON-POROUS, FLAT AND SECURE MOUNTING SURFACES.
Compare TRUCK ADSŪ Frame Kit with Metal Frames
34 Facts about Truck Banner Frames
1. TRUCKADSŪ banner mounting system is made entirely of high tech polymers that are recyclable.
2. TRUCKADSŪ truck media system is the best way to mount a banner and comes with a lifetime frame warranty and replacement guarantee.
3. TRUCKADSŪ banner track mounting system, when attached to both sides of a 102" inch wide truck does not exceed USDOT truck width restrictions of 102.36" inches.
4. TRUCKADSŪ changeable advertising trailer system "breathes with the truck" and remains firmly fixed to the side while the truck twists, bends and torques, mile after mile after mile.
5. TRUCKADSŪ flex sign frame does not damage the truck, bus or wall when installed on a door or sides and repairs to the truck or wall are non-existent upon removal.
6. TRUCKADSŪ truck mount flex frame banner system positions the banner less than 1/4" from the truck, bus or wall and causes no wind drag or added fuel costs. See comparison chart below.
7. TRUCKADSŪ INVISA-FRAME system is patented and forces the vinyl sign to hug the sides of the truck and never needs re-stretching.
8. TRUCKADSŪ truck framing system remains clean and free of dirt and road grime and never requires more than one person to remove it. Usually in 15 minutes or less.
9. TRUCKADSŪ vinyl banner frame system is a do it yourself (DIY) kit. Change Out installation kits only require a pair of scissors to cut the frame and a rubber roller like this, to install it.

10. TRUCKADSŪ vinyl sign system costs less to repair, if a secondary object strikes and damages the frame.
11. TRUCKADSŪ outdoor banner frame system does not cause the banner graphics to bang in the wind and always keeps the vinyl quiet at any speed.
12. TRUCKADSŪ INVISA-FRAME system is the only completely hidden banner frame for trucks on the market.
13. TRUCKADSŪ banner frame can be custom fitted to follow along the round bull nose truck frame often located at the top front corner of a box truck.
14. TRUCKADSŪ removable sign for trucks is attached to the side of 100's of box trucks and semi trailers (284,000,000 miles and over 10 years), without one failure.
15. TRUCKADSŪ vinyl sign system weighs less and causes no added fuel costs due to weight. See comparison chart below.
16. TRUCKADSŪ changeable truck sign system helps fleet owners sell their AD space.
17. TRUCKADSŪ INVISA-FRAME system weighs only 17 pounds for both sides of a 53' trailer and when you add in the 2 banners, weighs a total of 118 pounds. It is the most fuel efficient truck media system manufactured today. See comparison chart below.
18. TRUCKADSŪ INVISA-FRAME skin system can remain on a bus or truck without the vinyl in place and not increase wind drag or cause frame system failure.
19. TRUCKADSŪ billboard banner frame is stronger than metal frames.
20. LOWEST COST OF OWNERSHIP
Before choosing which truck banner frame system is right for you, stop and calculate the total cost of ownership for banners and frames. Truck sign systems weighing 225 pounds up to 450 pounds for 2 frames and 2 banners on a 53' truck cost 2.5 to 4 times more in fuel loss in just the first year, than TRUCKADSŪ INVISA-FRAME SYSTEM. Compound this cost over 3 years and the cost differences are enormous. TRUCKADSŪ INVISA-FRAME is completely smooth and aerodynamically enhances airflow, thus offsetting the weight of the materials.
U.S. Government Website States the Following
"An extra 100 pounds added to your vehicle could reduce your MPG by 1 percent. The reduction is based on the percentage of extra weight relative to the vehicle's weight and affects smaller vehicles more than larger ones."

Fuel Economy Loss per 100 pounds of added weight: 1%

Equivalent Fuel (Gasoline/Diesel) Costs: $0.02-$0.03/gallon

Semi-Tractor Trailers Average: 9 MPG/110,000 miles per year.

Fuel Consumption Annual Average: 12,222 Gallons per year.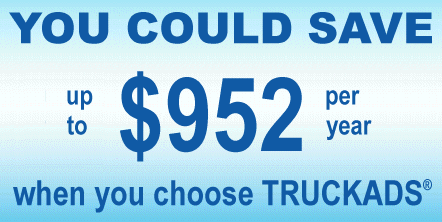 Compare Cost of Truck Banner Frame Systems
Weight of 2 Banners and 2 Frames on a 53' Trailer (8' x 51.5')
TRUCKADSŪ: 118 lbs - Government Estimated Fuel Loss Less than 1% - Cost per year: $244*
Competitor 1: 225-275 lbs - Government Estimated Fuel Loss 2-3% - Cost per year: $611
Competitor 2: 300-350 lbs - Government Estimated Fuel Loss 3-4% - Cost per year: $733
Competitor 3: 375-450 lbs - Government Estimated Fuel Loss 4-5% - Cost per year: $952
*ZERO's out added fuel consumption cost. Based on weight and profile, TRUCK ADSŪ INVISA-FRAME is the most fuel efficient system on the market. Achieve improved aerodynamics due to streamlining the truck sides (frame does not project beyond the banners) and banners don't bang in the wind.
21. LOW PRICE GUARANTEE!
If you find a better price for frames and banners from any of our competitors, TRUCKADSŪ will beat it by 5%. Competitive quotes must be current (30 days), in writing and road worthy.
What You Need to Know about Metal Frames.
22. Metal banner frames cost more and are not easily recycled.*
23. Kwik change banner rail frame systems require you to drill holes in the truck, bus or wall to install and use an expensive tool (shown here) for installation. Upon removal all holes must be repaired.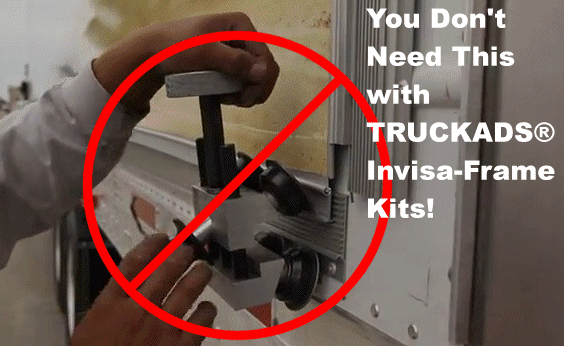 24. Metal banner systems have failed (rivets loosen and break over time) because the frame is rigid and does not "breath with the truck" as the truck twists, bends and torques mile after mile.
25. Metal flex banner frame systems require a saw, electric drill and an expensive custom tool kept with each truck, just to install the banner. See press release.
26. Metal trailer banner frames position the banner 3/8" to 1-1/2" from the truck and causes wind drag and added fuel costs.
27. Metal flex face mounting systems for banners need to be stretched and re-stretched (banner stretching frame) over time to prevent wind from making the sign slap against the truck side and cause a banging noise.
28. Metal stretch banner systems get dirt with road grime embedded in them, requiring 2-3 men working together (labor costs skyrocket) to break the vinyl banners loose from the banner zip track mounting system.
29. Metal banner stretching traxx frames cost more to repair when an object damages this type of sign frame.
30. Metal stretching media frames cannot be custom fitted to the rounded bull nose truck frame often located at the top front side corner of a box truck.
31. Metal trailer skin banner frame systems weigh a lot more than TRUCKADSŪ INVISA-FRAME System and contribute to increased fuel costs.
32. Metal vehicle banner sign holders are tedious and slow to install, very visible, industrial looking and heavy.
33. Metal frame systems, (if the sign is not in place at all times), contribute to higher fuel consumption and potential failure of the frame system due to wind drag.
34. Metal ages quickly in the outdoor environment and becomes pitted, rusted and weakens over time. See independent strength comparison test.
*Metal used in competitors frames weigh 10 times more than TRUCK ADSŪ Frame System.
TRUCK ADSŪ Frames are safer, more durable, more fuel efficient, lighter weight, easier to install and cost less!
For more testimonials, click here.
"TRUCK ADSŪ Frames are "GREAT"... I just installed the new frame system with full digital banners on three sides of my new truck and they look great. I then tested it on the highway to see if they can hold up at 80 MPH as advertised. Well.... I was so impressed at how they stayed perfectly flat with no flapping or bowing out or any sound or noise. This is the BEST system I have seen and I have been looking for 3 years. Everyone who sees the banners can't believe how good they look. It's like "invisible" one client said to me. I will be buying a lot of frames in the future." Dan D. CA
"TRUCK ADS Frame Kits are light weight and have a lifetime guarantee. I didn't find that with metal systems. As a sign company, I've tried practically all of them; Ackland Frame System, Traxx Frame System, Kwik Zip Frame System that uses the expensive kwik zipper tool, Truckskin Frame System, Truck Skins Frame System, Billboarder Frame System and Flexi-Frame System. All of these are metal frames and for my money, I like TRUCK ADS Frame Kit best!" Jose E. OH