DISH, CABLE AND BROADCAST TELEVISION MARKET AREAS
DESIGNATED MARKET MAP OF ALL REGIONAL AREA TV MEDIA MARKETS IN THE U.S.
DISH, CABLE AND BROADCAST TELEVISION MEDIA MARKETING MAPS (2021) on this website, are used regularly by opinion makers who work for media buyers, ad agencies, TV stations, newspapers, cable TV and broadcast networks, motion picture and TV producers, U.S. and foreign governments, soft drink beverage companies, food distributors, consumer product manufacturers, medical device and drug companies, insurance companies, auto makers, liquor and wine makers, financial institutions, attorneys, computer manufacturers, universities and colleges, mobile phone companies, small business entrepreneurs, internet service providers, political organizations and PR firms in the United States and worldwide.
Where World Opinion Makers Come to Target U.S. Consumers™

The Best, Easy to Navigate
Designated Market Map
2021
Click Designated Market Map to Reach Regional Market Area Maps, Area Demographics, Area ZIP Codes, City and County Lists + Local TV Station Links.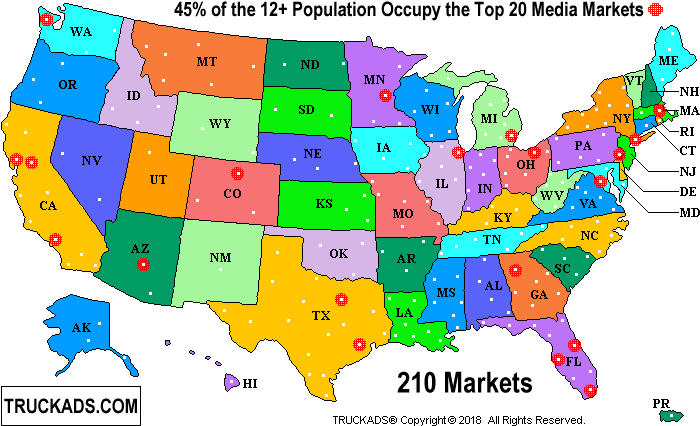 TRUCKADS® Rebrands DMA Map and Designated Market Area
NIELSEN® DMA ZIP Codes vs. TRUCKADS® ZIP Codes
Truck Side Advertising Yields High Impressions
Click for More Press Releases
Designated Market Maps illustrate TV Media Markets (clusters of counties), within the U.S. borders. There are no overlapping Designated Markets. Each regional market map illustrates the "reach" of satellite dish, cable and broadcast TV, within a Designated Area. Online market maps by others include Broadcast Market Area, U.S. Media Market Area, DMA Map and Nielsen Designated Market Area. We think TRUCKADS® illustrates the best, easy to navigate designated market maps online.