Truckside advertisements are seen on local and long distance delivery trucks. Truck side media is an adhesive decal or a vinyl banner/frame attached to the sides and/or back of the vehicle. TRUCK ADS® brokers ads on trucks for truck owners and fleet managers. Ad space is leased to advertisers and media buyers locally and nationwide. Truck Media Rates...
TRUCK ADS® Wrap Around AD is 96" high and almost the full length of the truck side and the back of the truck box. If you are looking for maximum truck media coverage this is the ad program for you. Display sizes are 15' up to 25' wide on a local delivery (straight) truck and 46 to 51 feet wide on a regional (big rig) semi-trailer. That's 296 up to 886 square feet of space. More...
TRUCK ADS® Semi-Trailer AD is 5 feet high x 12 feet wide (60 square feet), but can be larger. It does not share the truckside with other advertising. The side of a semi truck trailer is about 8' high, so your graphic AD will cover a large portion of a local delivery truck side and gives you the space to make a statement and display your graphic at affordable rates. More...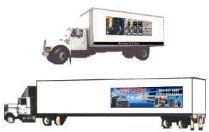 TRUCKADS® Banner Sign Store
We accept creative advertising for most products and services. We willingly promote most businesses on trucks and reserve the right to refuse advertising that is deemed in non-compliance with our ads trucking guidelines and community standards. Single item sellers, visit our FAQ page to learn how to do it yourself.

Please visit TRUCK ADS® Online iStore to shop for truck side banners and frames. Thank you for visiting TRUCKADS®.
TRUCK ADS®