TRUCKADS® Outdoor Media
Truck Advertising Options
Wrap Around Ad
Super Side Ad
Semi-Trailer Ad
Tail Light Ad
FAQ

Truckside advertisements are seen on local and long distance delivery trucks. Truckside media is an adhesive decal wrap or a vinyl banner/frame attached to the sides and/or back of the vehicle. TRUCK ADS® brokers ads on trucks for truck owners and fleet managers. Box truck wraps are provided to advertisers and media buyers locally and nationwide. See truck media rates.
TRUCK ADS® Wrap Around AD is 96" high and almost the full length of the truck side and the back of the truck box. If you are looking for maximum truck media coverage this is the ad program for you. Display sizes are 15' up to 25' wide on a local delivery (straight) truck and 46 to 51 feet wide on a regional (big rig) semi-trailer. That's 296 up to 886 square feet of space. More about Wrap Around Ads.
TRUCK ADS® Super Side AD is 96" high x 15' up to 25' wide on local delivery (straight) trucks and 96" high x 46 to 51 feet wide on regional (big rig) semi trailers. Create a 3D ad unique for your product. This ad size varies from 120 to 415 square feet. More about Super Side Ads.
TRUCK ADS® Semi-Trailer AD is 5 feet high x 12 feet wide (60 square feet), but can be larger. It does not share the truckside with other advertising. The side of a semi truck trailer is about 8' high, so your graphic AD will cover a large portion of a local delivery truck side and gives you the space to make a statement and display your graphic at affordable rates. More about Semi-Trailer Ads.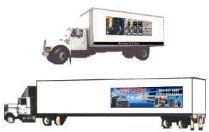 TRUCK ADS® Tail Light AD is 92 inches high x 88 inches wide (56 square feet). This truck side graphic never shares the back (exclusive showing) with other advertising. Speak to a "captive audience" with the TAIL LIGHT AD Program. More about Tail Light Ads.