McLean, VA (February 2, 2007) - The United States Department of Transportation (USDOT) regulates our nations trucking industry. USDOT truck width regulations establish the maximum width of a commercial motor vehicle traveling our roads. USDOT 23 CFR, 658.15 clearly states that a Commercial Motor Vehicle (CMV) can be no wider than 102.36" wide, excluding mirrors and certain safety devices. Exceptions to this regulation are found in Regulation 23 CFR 658.16. Today, truck and trailer manufacturers in an effort to maximize the cargo space, build most box trucks and trailers exactly 102" wide, leaving just enough width on the outside of a truck side to add hazmat signage and other truck add-ons a carrier may need to install on their vehicles.

BANNER & FRAME INSTALLATION VIDEO. Click [full screen symbol] to enlarge to HD Quality.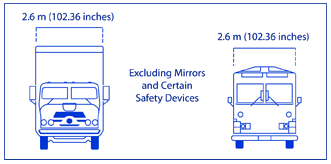 Commercial Motor Vehicle Width Limits


(Graphic courtesy of USDOT)
The video above illustrates the TRUCKADS® patented banner frame system is one of the slimmest in the truck side banner frame industry and meets limitations set forth by USDOT 23 CFR, 658.15 and 658.16.
TRUCK ADS® Banner Frame System is legal. When the TRUCK ADS® frame system is attached to both sides of a truck, it adds just 0.34375" to the measured width of the truck. Slightly less than the 102.36" width limitation as set forth in CFR 23, 658.15. Our frames produce no wind drag which could add to fuel costs.
USDOT Provides Written Opinion Regarding TRUCK ADS® Frame System
McLean, VA (January 22, 2013) - TRUCK ADS® received a written opinion January 22, 2013, from the Office of the Chief Counsel, Federal Highway Administration, U.S. Department of Transportation. It was determined the TRUCK ADS® Frame System complies with the USDOT Truck Width Regulations.
Banner advertising on trucks has become a popular large format and grand format media option for advertisers. Therefore, it is critical for public safety reasons that carriers are aware of the laws that govern the maximum width of a truck and take caution that truck media frames attached to their trucks fully comply with USDOT Regulations.
TRUCKADS® INVISA-FRAME SYSTEM COMPLIES WITH USDOT TRUCK WIDTH REGULATIONS
The TRUCK ADS® brand represents quality and safety you can rely on. It meets USDOT regulations and is strong and safe. We believe it is the best vinyl banner frame on the road today and back it with our lifetime warranty.