Your Ad Campaign and Our Commitment to You

Receive a completion guarantee with photos of each ad display.


See where your trucking ads are viewed, via illustrative GPS tracking maps.


Receive CPM impression estimates for transit advertising campaigns.
On Local Delivery Trucks and Long Haul Trailers
TRUCKADS® offers effective and affordable truck media advertising campaigns on our network of ad trucks. Media space is available on the sides of local delivery trucks that travel within metropolitan areas and on the sides of (big rig) semi-trailers that travel regional interstate highway segments throughout most of the United States and parts of Canada. For more information and truckside advertising rates, review our online media kit and download a copy.


Highly visible ADVERTISING SPACE on the sides of white trucks, is one of the best methods of reaching consumers outdoors. The process for putting together an advertising campaign is straight forward and starts with the following:



Identify the media markets you want to target with your mobile advertising campaign.



Select the truck side advertising program that fits your needs and GRP goal. We will calculate the number of truck sides needed to achieve your objective.



You will receive a free, no obligation advertising quote, guaranteed for 60 days.



More about outdoor mobile ad campaigns.

Please take a few minutes to browse our website. If you need answers now, call 1 (800) 878-2523. We look forward to hearing from you.
COMPARE MEDIA RATES
Mobile billboard owners operate the following types of advertising trucks: A-Frames, TV video trucks and LED truck signs. To review all types of outdoor mobile advertising options see creative guidelines.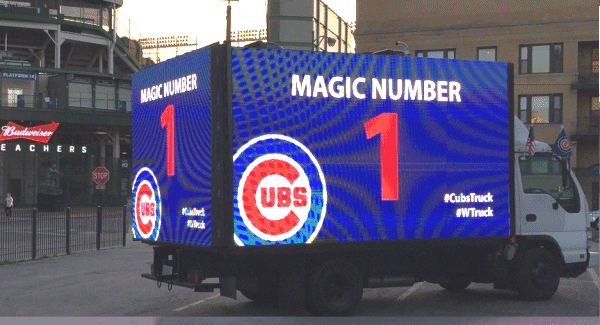 Truck Owners Click Here
Advertise on your truck sides. Create more income.
TRUCKADS® Banner Sign Store
We accept creative advertising for most products and services. We willingly promote most businesses on trucks and reserve the right to refuse advertising that is deemed in non-compliance with our ads trucking guidelines and community standards. Single item sellers, visit our FAQ page to learn how to do it yourself.

Please visit TRUCK ADS® Online iStore to shop for truck side banners and frames. Thank you for visiting TRUCKADS®.
TRUCK ADS®