Fleet Graphics
The Truck Cleaning Solution
FAQ

We use adhesive decals and heavy duty vinyl banners attached to truck sides with TRUCKADS® patented INVISA-FRAME system. OOH trailer graphics reach 100's of thousands of consumers daily. Truck fleets are a great media sales tool for your business. Vinyl banners are installed quicker and for a lower cost than adhesive decals and our full color vinyl banner and frame system will turn your trucks into big mobile advertising billboards. See banner installation video.
Nationwide Services

Hire TRUCKADS® and experience less down time for your fleet. We can save you time and money installing your graphics. Full color vinyl banners are easily changed out to meet the needs of your ongoing fleet ad campaigns. Click the following link to visualize what your ad looks like on a truck.

TRUCKADS® services include full color, heavy duty, 18 ounce, vinyl banners printed to your design specifications. TRUCKADS® installation crews deploy anywhere in the US to perform installations. Advertising on trucks generate more visual impressions and reach more new customers than any other form of outdoor advertising. We help consumer product companies grow their business line of products and services.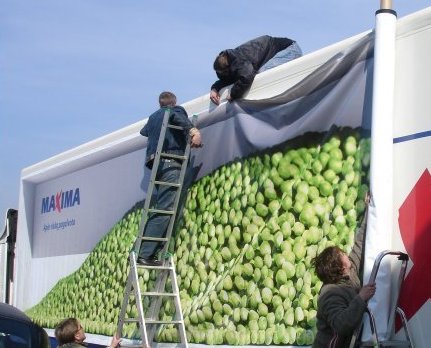 Advertising on semi-trailers and box trucks promote products and services of the advertiser. The quantity of fleet ads vary depending on the size and reach of the ad campaign. The ad generally consists of the brand name, a tag line and a message. Truck graphics completely or partially cover the truck side.
FILL IN FORM BELOW
Sleek and clean truck graphics, project a positive image for your business. If you are searching for professional fleet services, call TRUCKADS®. We turn blank, boring fleets into big branding vehicles. Easy Fleet Graphics Form Below.
Graphic Application Services Available Nationwide

We provide creative art design services.

We install TRUCKADS® patented INVISA-FRAME system to attach banners.

We provide banner repair and replacement management services.

We install nationwide on truck sides and backs.
Utilizing a changeable vinyl banner frame system and/or adhesive decals on local straight trucks and long haul semi-trailers, TRUCKADS® provides nationwide installation, repair and replacement management services for your fleet.




KEEP YOUR FLEET CLEAN. When it's time to clean your vinyl banners and adhesive decals (every 2 to 4 weeks), use the best vinyl cleaning solution on the market. Banner and decal cleaning is easy with VINYL MASTER.
TRUCKADS® FLEET GRAPHICS


INSTALLED WITH TRUCKADS® PATENTED VINYL BANNER FRAME SYSTEM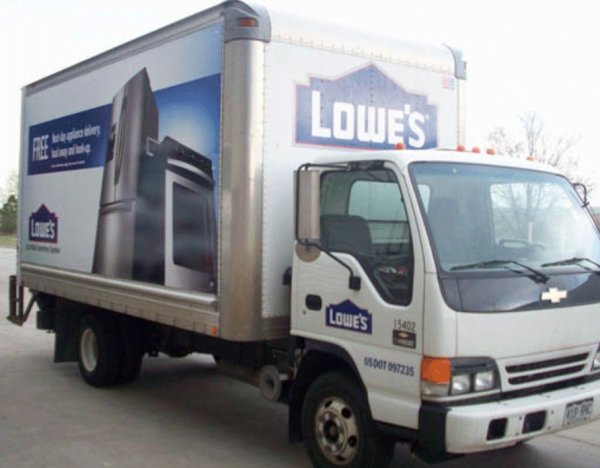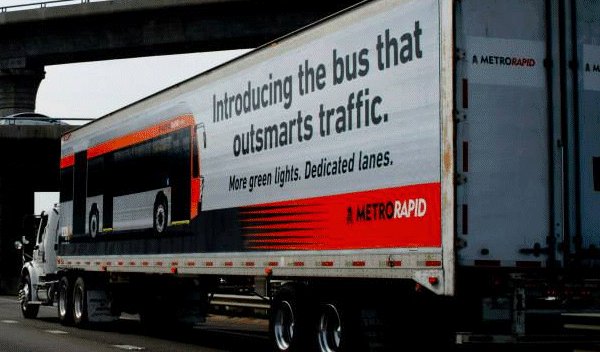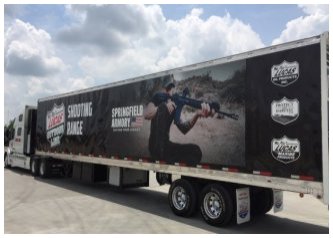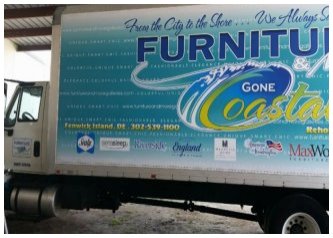 If you are looking for a superior quality changeable banner frame system for your fleet, call us today. Purchase TRUCKADS® full color, heavy duty, 18 ounce, vinyl banners and our patented frame system directly from TRUCKADS®. Or purchase our system nationwide, thru a local sign company. Our frame system allows fleet owners to change out banners without damaging truck sides and without creating long down times for vehicles. Change out banners two or three times for the same price as one full wrap adhesive decal installation.
What type of truck fleets do we install banners on?

Local and nationwide Semi-trailers and Box Trucks are our specialty.
Fill in the form and we will call you to discuss your fleet graphic requirements.
When you're ready to grow your business, call 1 (800) 878-2523.

Choose TRUCKADS® Fleet Services.