McLean, VA (April 27, 2014) - TRUCKADS® recently reviewed four banner and frame competitor's advertising claims, etc. We compared website traffic, vinyl banner/frame weight and ease of installation claims to help our future customers make a more informed purchase decision.
COMPARE TRUCKADS.COM WEBSITE TRAFFIC WITH COMPETITORS (2 YEAR COMPARISON)
Some of our competitors claim they sell the best and most popular vinyl banner frame system in the U.S. and even the world. However, our competitors who sell banners and frames for trucks (like us), must depend on internet traffic for sales. Our sales and their sales are tied directly to word of mouth website traffic and keyword searches. As you can see (chart below), no other competitor comes close to TRUCKADS.com.

According to a well respected website analysis company (www.SEMRUSH.com) that generated the website traffic chart below, our closest competitor (truckskin.com) generated only 1/18 the amount of internet traffic we generate in a month. Our second closest competitor (advertisingtrucks.com) generated only 1/27 of the amount of traffic we generate in a month. Our third closest competitor (epicworldwide.com) generated only 1/32 of the amount of traffic we generate in a month. And our fourth closest competitor (acklandmediaframes.com) generated just 9 visitors from word of mouth and search results over a 2 year period. So, how does our third closest competitor claim to be the "World's #1 Vinyl Graphics Attachment System"? We don't know. However, we suggest you don't believe everything you hear or read.
2 Year Website Traffic Comparison Chart - Updated July 2015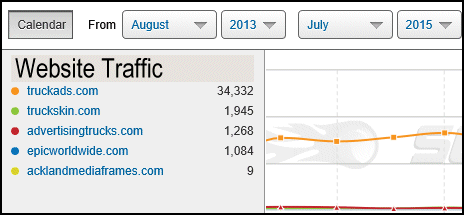 COMPARE VINYL BANNERS AND FRAME WEIGHT WITH FUEL COST COMPARISON
When it comes to fuel loss associated with weight, it is a well documented fact that the heavier a vehicle, the more fuel it consumes. Over a period of time, the loss of fuel adds up to real dollars - very expensive annual dollars otherwise described as "cost of ownership". Our competitors all claim their system is light weight, but compared to what? Surprisingly, none of them say.
One competitor says "put simply, our products are lighter, slimmer, and are supported by some of the worlds most trusted names" REALLY? Not lighter or slimmer than TRUCKADS® FRAME KITS.
U.S. Government Website States the Following
"An extra 100 pounds added to your vehicle could reduce your MPG 1 percent. The reduction is based on the percentage of extra weight relative to the vehicle's weight and affects smaller vehicles more than larger ones."
Fuel Economy Loss per 100 pounds of added weight: 1% Equivalent Fuel (Gasoline/Diesel) Costs: $0.02-$0.03/gallon
Semi-Tractor Trailers Average: 9 MPG/110,000 miles per year. Fuel Consumption Annual Average: 12,222 Gallons per year.
COMPARE WEIGHT AND COST (2 Banners and 2 Frames on a 53' Trailer)
Brand

Weight

Fuel
Loss*
Extra Fuel Costs*
TRUCKADS®*
118 lbs
> 1%
$244
Competitor 1
225-275 lbs
2%-3%
$611
Competitor 2
300-350 lbs
3%-4%
$733
Competitor 3
375-450 lbs
4%-5%
$952
*Government Annual Estimate
ZERO out added fuel consumption cost. TRUCK ADS® Frame is the most fuel efficient truck banner frame system manufactured, based on weight and profile. Achieve improved aerodynamics due to streamlining the truck sides (frame does not project beyond the banners) and banners don't bang in the wind.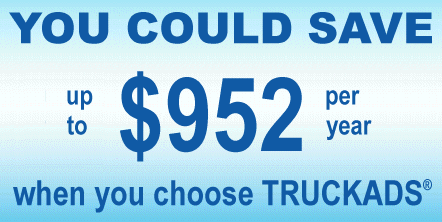 COMPARE MAN HOURS AND COST OF TOOLS TO INSTALL FRAMES AND BANNERS
Installing anything that is comparable is based on the skill of the installer. All frame systems made from metal are time intensive installations. The TRUCKADS® INVISA-FRAME system is the only system made entirely of polymer's, which is a fancy way of describing the content of plastic. The TRUCKADS® INVISA-FRAME system requires only a rubber roller and a pair of scissors to install it, carries the only lifetime warranty and has been tested to hold fast and not fail. It tested superior to metal rivets or screws.
Our competitors all claim there system is easy to install and takes only a few minutes. One even shows you a video that claims it can be done in just 18 minutes. Another shows you a video and says it takes only 15 minutes to install. In fact, these are claims that are not realistic with the best of crews. Let's be honest (manufacturers of Kwik Zip, Traxx and Ackland), it takes at least that long to finish your morning cup of Jo (coffee) and unload all the parts and tools required for installation, before you ever start to install the frames and banners on a truck!

The TRUCKADS® FRAME KITS only require these tools: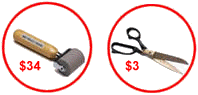 Our competitors frame kits require some or all of these tools:

If you're not yet convinced, how about this visual?
The KwikZip frame system requires an expensive KWIK ZIP tool, plus most of the other tools shown above to install it. On the other hand, TRUCKADS® patented Frame System is easily installed with a rubber hand roller and a pair of scissors.
TRUCKADS® INVISA-FRAME SYSTEM $34 Tool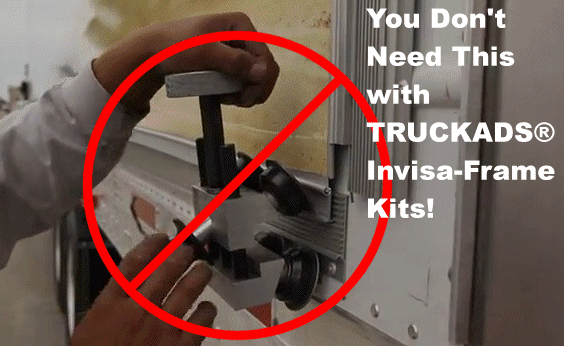 KWIK ZIP FRAME SYSTEM $300+ Tool
Need we say more? Of course! Read about all the pluses of the TRUCKADS® INVISA-FRAME System!
Read 34 undeniable facts about why the patented TRUCKADS® INVISA-FRAME System is better than any metal banner frame system.