THE INVISIBLE MEDIA FRAME SYSTEM®
LIFETIME WARRANTY ~ STRONGER THAN METAL ~ DO IT YOURSELF
Full Color, Heavy Duty, 18 Ounce Vinyl Banners, Designed for Trucks.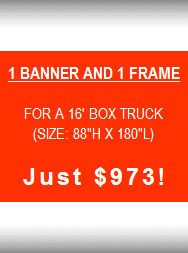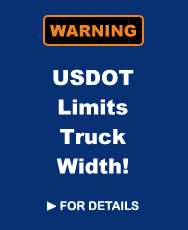 Order Options
Order Any Size Frame or Banner
Initially, order a Starter Frame Kit (width X height) that fits within the side frames of the truckside. When you replace your banner, order a Change Out Frame Kit that is the same size. To insure accuracy, all orders are placed online. Save up to 53% on banners and 10% on 2-pack Frame Kits.
Frame Mounting Requirements
TRUCK ADS Frame Kits™ securely adhere to raw metal, metal with baked on factory finish, fiberglass, glass and ceramic. Frame will remain in place until you decide to permanently remove it. Mounting surfaces MUST be non-porous, smooth and flat. Do not attach TRUCK ADS® Frames directly to wood, brick, concrete or non-baked on painted surfaces. See frame installation manual.
Not Supplied in Frame Kits
Rubber headed installation roller, scissors, denatured alcohol and flex vinyl banner are not included with frame kits. Rollers and vinyl banners are available at TRUCKADS® iStore.
More...

Installation Video

Installation Manual

Meets USDOT Regs.

Frame Strength Test

Lifetime Frame Warranty
TRUCKADS® Banner Sign Store

We accept creative advertising for most products and services. We willingly promote most businesses on trucks and reserve the right to refuse advertising that is deemed in non-compliance with our ads trucking guidelines and community standards. Single item sellers, visit our FAQ page to learn how to do it yourself.

Please visit TRUCK ADS® Online iStore to shop for truck side banners and frames. Thank you for visiting TRUCKADS®

TRUCK ADS®