TRUCKADS® Outdoor Media
Truck Advertising Options
Wrap Around Ad
Super Side Ad
Semi-Trailer Ad
Tail Light Ad
FAQ

A TRUCK ADS® Tail Light Ad is 92" high x 88" wide. The back of a truck is a strategic location for advertising. On busy streets during the day, many drivers become a captive audience to Tail Light Ads.

CPM Calculators

Visual Aid Tools

Photo Gallery
This is the perfect ad size for the promotion of new products and services. Detailed information such as time and date for special events can be advertised on the back of a truck. It's a great location for detailed ads because consumers have plenty of time to read it.


TAIL LIGHT AD
Which Banner Size is Best For You?

Tail Light Ads can be viewed for extended time periods because people are often stopped behind trucks or drive up to a truck before passing and have time to read. When your ad requires more specific information a Tail Light Ad is the best solution.
HIGHLIGHTS

Size: 92" high x 88" wide (56 square feet).

Speak to a captive audience.

Best location to deliver a detailed message.

DIY: TRUCKADS® Banner Sign Store
TAIL LIGHT AD SPECIFICATIONS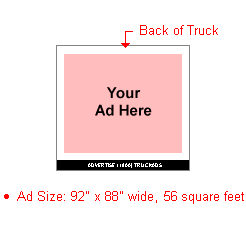 Elevation Box Truck or Semi-Trailer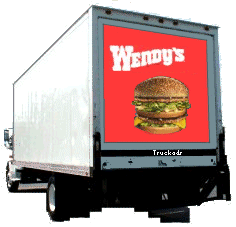 Media Kit with AD Rates