TRUCKADS® Outdoor Media
Truck Advertising Options
Wrap Around Ad
Super Side Ad
Semi-Trailer Ad
Tail Light Ad
FAQ

Truck advertising wraps are located on both sides and the back of a truck or trailer. This truck side advertising program gives advertisers plenty of space to create a spectacular "Mobile Billboard" seen from every direction.

CPM Calculators

Visual Aid Tools

Photo Gallery
There is no doubt, roadside static billboards are effective. However, because they remain in a fixed location, experts agree static billboards "disappear" into the landscape, after a few weeks. Agencies and advertisers have learned the same large scale format (advertising wraps) on trucks is more powerful and effective, because more people see them in different settings and ads remain fresh much longer.


WRAP AROUND ADS DELIVER 296 up to 886 SQ. FT. OF AD SPACE!
GO BOLD
Available space for a full wrap on a truck is 96" high x 15' up to 25' long on each side of a local delivery (straight) truck and 46 up to 51 feet long on each side of a regional (big rig) semi-trailer/tractor-trailer. Plus, the ad space on the back of the truck. Depending on the truck size, trailer wrap advertising space totals 296 up to 886 square feet per truck. Wrap Around Ads are big and effective.

If you are launching a new product or service and own or lease trucks, you may want to opt for fleet graphics. Long term maximum exposure for branding a product is the most effective way to advertise and a smart alternative or add-on to other forms of advertising. Compare ad rates and then call TRUCK ADS® for tractor trailer billboard advertising. Cost-per-thousand (CPM) impressions for a Wrap Around Ad is super low!
DISPLAY OPTIONS
Local Metro Advertising
Displayed on local delivery, straight box trucks.
Regional Tractor Trailer Advertising - Fixed Trailer
Displayed on a regional (big rig) semi-trailer. Also known as a tractor-trailer. The tractor and trailer always stay together.
Regional Tractor Trailer Advertising - Drop and Hook
Displayed on a regional (big rig) semi-trailer participating in drop and hook operations. 10% less than published AD rates.
HIGHLIGHTS

Large, mobile billboards from 296 up to 886 total square feet.

Great space for launching new products and services.

Impossible to ignore from any direction.

DIY: TRUCKADS® Banner Sign Store
WRAP AROUND AD SPECIFICATIONS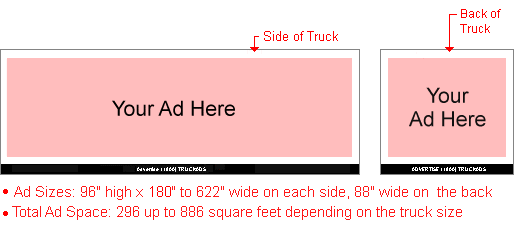 Elevation Box Truck or Semi-Trailer
Installation Video

Media Kit with AD Rates