A TRUCK ADS® Logo Ad is 30 inches high x 5 feet long and effective for increasing company brand awareness at a competitive price. Logo Ads deliver your message to 1000's of consumers every day. Logo Ads are located on either side of local delivery (straight) trucks and don't share the same side (exclusive showing) of a truck with another ad.

CPM Calculators

Visual Aid Tools

Photo Gallery
BEST RATE
Logo Ads are a cost effective method
of advertising products. 4 ads reach over 175,000 eyes daily.
LOGO AD vs TAIL LIGHT AD
Which Banner Size is Best For You?

In terms of ad location, there's always a tradeoff. More people see a driver's side Logo Ad than a Tail Light Ad. However, Tail Light Ads can be viewed for extended time periods because people are often stopped behind trucks or drive up to a truck before passing and have time to read an ad. Tail Light Ads are useful to convey more specific information with slightly smaller print. If you can deliver your message in just a few words, a Logo Ad is your best cost/benefit choice.
HIGHLIGHTS

Size: 30 inches high x 5 feet long (12.5 square feet).

Increase brand awareness in the market place immediately.

Your ad does not share the same side of the truck with other ads.

DIY: TRUCKADS® Banner Sign Store
LOGO AD SPECIFICATIONS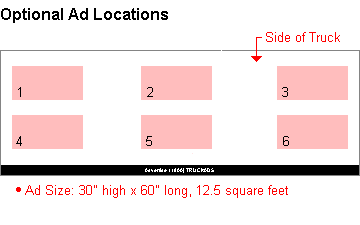 Elevation Box Truck or Semi-Trailer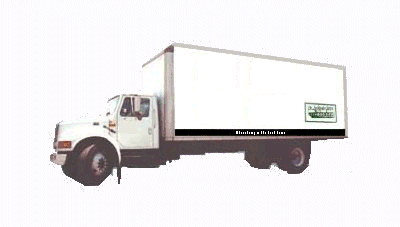 Media Kit with AD Rates
TRUCKADS® Banner Sign Store
We accept creative advertising for most products and services. We willingly promote most businesses on trucks and reserve the right to refuse advertising that is deemed in non-compliance with our ads trucking guidelines and community standards. Single item sellers, visit our FAQ page to learn how to do it yourself.

Please visit TRUCK ADS® Online iStore to shop for truck side banners and frames. Thank you for visiting TRUCKADS®.
TRUCK ADS®