McLean, VA (March 1, 2003) - TRUCKADS® is providing an all-white 48 foot Semi-Trailer with a Super Side AD and a Tail Light AD display for Isatori Global Technologies, Inc.. The ADS will be seen at one of their annual conventions in Anaheim, California. The convention runs March 4 to 9, 2003 and will be attended by many professionals in the health industry. Isatori manufactures Lean System 7™ a scientifically proven "fat burner."

ISATORI® came to TRUCKADS® via the internet. All work was accomplished via phone and express mail. The entire process went smoothly and in the end the AD campaign was considered a big success. The Semi-Trailer was located on the corner of Convention Way Blvd. and Harbor Blvd. in Anaheim, CA for 5 days. We calculated the number of impressions exceeded 300,000 for the week!"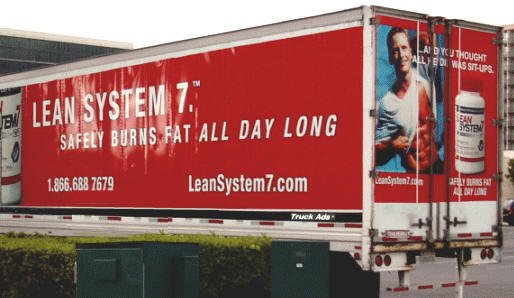 TRUCKADS® Banner Sign Store
We accept creative advertising for most products and services. We willingly promote most businesses on trucks and reserve the right to refuse advertising that is deemed in non-compliance with our ads trucking guidelines and community standards. Single item sellers, visit our FAQ page to learn how to do it yourself.

Please visit TRUCK ADS® Online iStore to shop for truck side banners and frames. Thank you for visiting TRUCKADS®.
TRUCK ADS®