Advertisement





EVENT TARGETED MOBILE ADVERTISING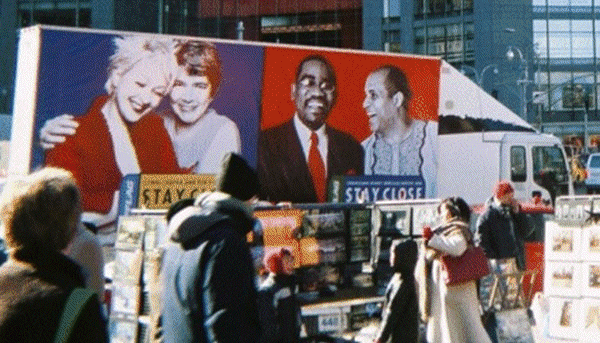 Mobile Billboard Trucks
Mobile billboards are often used as part of a major media mix for brand exposure, events or retail store openings. This form of advertising offers several advantages over static billboards. Mobile billboard trucks are leased by the day, week or month, in most U.S. metropolitan markets. The length of a "Mobile" ad campaign is usually a few days or weeks at a time. Billboard ad rates are determined by the number of trucks, truck type and length of the ad campaign.



Mobile advertising on a truck is designed to reach specific out of home (O-O-H) demographic groups in targeted locations with high frequency and impact. Typically, all that is needed are 1 to 3 ad trucks to saturate an event or grand opening.



Billboard mobility enables exposure at any time or place the advertiser may choose, resulting in mobile ads exposed to immediate and potential customers. Advertising rates vary based on billboard type.



Large billboard ads rolling slowly in front of 100's or 1000's of eyes have a lasting impression on viewers for days and weeks after seeing them.

TRUCK ADS® works with providers who own mobile boards and serve specific markets. A-Frame mobile boards are available in most markets. Video mobile boards and LED mobile boards are available in limited markets. To locate a provider, click a market listed below, or call 1 (800) TRUCKAD.
~ LOCAL AND NATIONAL DIRECTORY ~
MOBILE BILLBOARD OWNERS

Exclusive Directory of U.S. Mobile Advertising Operators in the U.S.
Click a City to Reach a Billboard Owner Operator's Website
Chicago and Regionally
Chicago Media Market Data
Dallas Ft. Worth and Regionally
Dallas Ft. Worth Media Market Data
Madison, WI and Regionally
Madison Media Market Data
Mention TRUCKADS® and receive a discount from these billboard owners.
Billboard owners call 1 (800) TRUCKAD to get linked here
Secure a Mobile Board for Your Event
A-Frame Billboard ~ Video Projection Billboard ~ LED Billboard
Mobile Billboard Ad Rates
Rates vary from $350 to $2000 per day and are based on the type of truck (video trucks are more expensive) and length of the ad campaign. Videos for LED and rear projection screens are created and provided by the advertiser, while vinyl banners (not included in the daily rate) cost an additional $1,000 to $1,400 and are printed by the owner operator.

A-FRAME BILLBOARD TRUCKS COMMAND ATTENTION
Are you interested in utilizing mobile billboards to reach your target audience? A-Frame billboard trucks are solely dedicated to your product or service. These billboard trucks deliver more exposure than a 30 sheet board (10' x 20' on each side) They are perfect for special events and grand openings. Call for a free quote. 1 (800) 878-2523.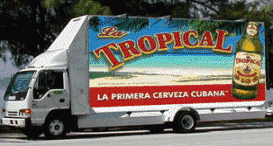 VIDEO TV TRUCKS ARE BEST AT NIGHT
TRUCK ADS® can help you with the implementation of your advertising campaign. Our affiliate network of electronic video trucks are rear projection units for night time use. These rolling billboards have the advantage of ADS IN MOTION and they attract consumer interest wherever viewed. Call for a free quote. 1 (800) 878-2523.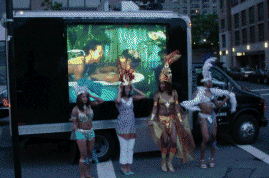 LED BILLBOARD TRUCKS ARE VISIBLE DAY OR NIGHT
If you need to go high tech electronic and have the budget for it, we can provide you with LED Billboards that rise above the crowd and can be seen anytime of the day or night.

TRUCK ADS® affiliates offer the best outdoor Ad rates for your next special event, grand opening or product launch. When you're ready to work with an advertising company who offers great billboard rates and quality service, call 1 (800) 878-2523.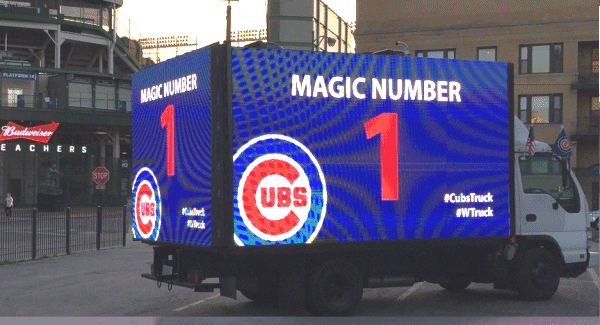 TRUCKADS® Banner Sign Store
We accept creative advertising for most products and services. We willingly promote most businesses on trucks and reserve the right to refuse advertising that is deemed in non-compliance with our ads trucking guidelines and community standards. Single item sellers, visit our FAQ page to learn how to do it yourself.

Please visit TRUCK ADS® Online iStore to shop for truck side banners and frames. Thank you for visiting TRUCKADS®.
TRUCK ADS®