A TRUCK ADS® King Size Ad is 30 inches high x 12 feet wide. Compare this with the same size ad on a metro bus. This truck side ad is more visible and more effective because it is displayed on an all white background, without distractions and is displayed well above the average height of an automobile.

CPM Calculators

Visual Aid Tools

Photo Gallery
TRUCK ADS® King Size Ads are positioned 8 feet high on the side of a local delivery truck so viewers have a clear line of site. You don't get this kind of positioning on a metro bus where the ad is only about 3 feet above the ground. King Size Ads on metro buses are located below the roofline of cars, making them difficult to see in traffic unless you're right next to them.


KING SIZE AD vs QUEEN SIZE AD
Which Banner Size is Best For You?

King Size Ads and Queen Size Ads are more or less equal when you compare where they are located on the truck. They can be displayed on either side of the truck and when you compare size, King Size Ads are 17% bigger.
HIGHLIGHTS

Size: 30 inches high x 12 feet long (30 square feet). 17% bigger than Queen Size Ads.

Reach 44,000 eyes per day (driver's side) in the top 20 media markets.

Centered on truck sides, 8 feet above the ground and highly visible from a distance.

DIY: TRUCKADS® Banner Sign Store
KING SIZE AD SPECIFICATIONS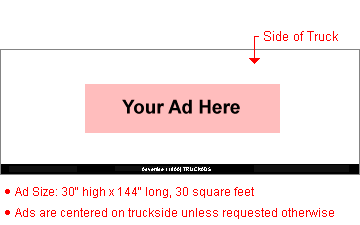 Elevation Box Truck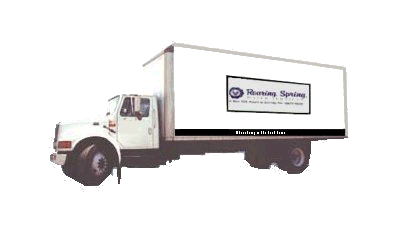 Media Kit with AD Rates
TRUCKADS® Banner Sign Store
We accept creative advertising for most products and services. We willingly promote most businesses on trucks and reserve the right to refuse advertising that is deemed in non-compliance with our ads trucking guidelines and community standards. Single item sellers, visit our FAQ page to learn how to do it yourself.

Please visit TRUCK ADS® Online iStore to shop for truck side banners and frames. Thank you for visiting TRUCKADS®
TRUCK ADS®