McLean, VA (July 2, 2003) - TRUCKADS® now offers a useful media tool for the trade, fleet owners and individual truck owners. This TRUCKADS.com Media Tool enables advertisers to see what an ADVERTISEMENT will look like on a truck, before buying or quoting the AD. With little knowledge of computers, a visitor can see their AD before contacting a TRUCKADS® Affiliate, requesting a quote or actually buying an AD from our iStore.
If you have a photo of yourself, it is fun to see what you look like on the side of a truck. On a more serious note, there are 9 different AD sizes so you can see what your graphic looks like on the side of a truck prior to buying a banner for your truck or AD space from a media broker. The See Your AD on a Truck Now is an easy to use visual aid tool for anyone considering advertising on a truck.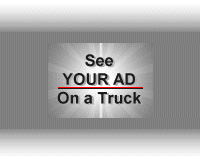 TRUCKADS® Banner Sign Store
We accept creative advertising for most products and services. We willingly promote most businesses on trucks and reserve the right to refuse advertising that is deemed in non-compliance with our ads trucking guidelines and community standards. Single item sellers, visit our FAQ page to learn how to do it yourself.

Please visit TRUCK ADS® Online iStore to shop for truck side banners and frames. Thank you for visiting TRUCKADS®.
TRUCK ADS®