Middleburg, VA (March 16, 2017) - In a letter dated February 28, 2017, from the Washington DC and Eastern Pennsylvania BBB local chapter president and CEO, Edward Johnson III, TRUCKADS® was awarded a certificate of commendation for 15 years (2002 to 2017) of distinguished service in promoting the mission and principles of the Better Business Bureau. TRUCKADS® has been a member of the BBB without complaint for 15 years and has an A+ rating.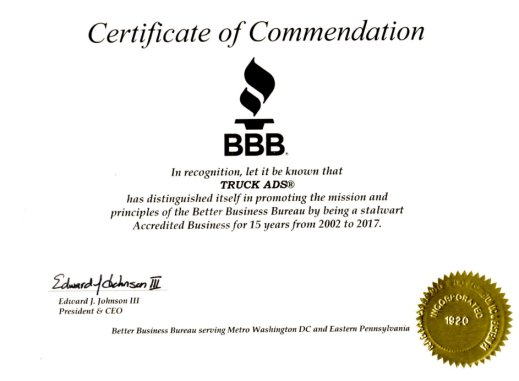 TRUCKADS® Banner Sign Store
We accept creative advertising for most products and services. We willingly promote most businesses on trucks and reserve the right to refuse advertising that is deemed in non-compliance with our ads trucking guidelines and community standards. Single item sellers, visit our FAQ page to learn how to do it yourself.

Please visit TRUCK ADS® Online iStore to shop for truck side banners and frames. Thank you for visiting TRUCKADS®.
TRUCK ADS®