McLean, VA (June 27, 2003) - TRUCKADS® joined Virginia's Adopt-A-Highway Program and will soon be demonstrating their continuing commitment to help keep America beautiful.

On June 10, 2003 TRUCKADS® was approved for clean up duty and will soon begin cleaning a 2.3 mile stretch of historical Chain Bridge Road at least 4 times a year. The highway is located in the heart of Northern Virginia, with Tyson's Corner Shopping Center positioned on one side and Tyson's Galleria on the other. Tyson's Corner is also home to many of the nations largest corporations and is the 9th largest in the US in terms of overall available office space.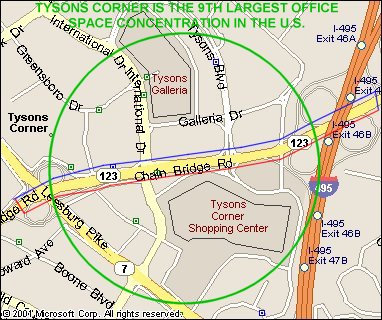 Map of Tyson's Corner, Virginia.
The Washington, DC Beltway (I-495) shown bisecting the 2.3 mile stretch adopted by TRUCK ADS.

TRUCKADS® is pleased with the opportunity to play a small part in helping to keep America's highways free of clutter and debris. Virginian's are caring and thoughtful people who believe in keeping the state beautiful for everyone to enjoy. Virginians decided long ago to limit and in some areas eliminate static billboards along our state highways so there will always be an unobstructed view of Virginia's beautiful landscapes. Today, here in Virginia, if you see litter or static billboards along the highways of Virginia, it is rare. Our job is fairly simple; keep an already beautiful stretch of highway clean. We are proud to be a part of Virginia's Adopt-A-Highway Program.