TRUCKADSŪ Outdoor Media
Media Plan
Truck Advertising Options
Creative Guidelines
TRUCKADSŪ vs Bus Ads
Compare Media Rates
Client GPS Login
FAQ

TRUCK ADSŪ Super Side ads on all white trucks are more visible than King Size bus ads. Plus, bus ads have an image problem and outdoor mobile advertisers soon realize all-white advertising trucks are best suited for a positive ad campaign.
COMPARING ADS ON TRUCKS VS. BUSES

Super Side ads are 4 - 14 times larger than bus ads.

Our TRUCK ADSŪ are on the road 8 to 10 hours a day.

GRP verified by GPS. You know where they are or where they went or if they are even on the road!

TRUCK ADSŪ campaign banners are seen on clean, white trucks.

Ad space is elevated for greater visibility at greater distances.

Ads don't compete with vehicle distractions like they do on buses.

CPM ad rates on trucks are much lower.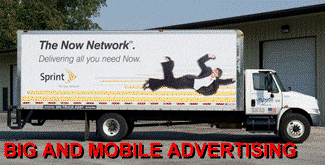 Truck Side advertising sells it softly. It is easier to read and less cluttered. Bus side advertising is lost among all the adjacent elements of a bus; and reading text within a small space, is not easy.
ADS ON BUSES

Half (50%) of all metro buses sit idle from 10am to 3pm.

What? No GPS? How do you know where they are?

Ads on buses are usually small.

Bus ads compete with multi-colored bus sides.

Low riding ads on buses are difficult to see in traffic.

Ads compete with big wheel wells, doors and windows.

Tail Light ads compete with air conditioners and are often dirty.
TRUCK ADSŪ MEDIA network of local delivery (straight) trucks travel 125 to 300 miles and 8-10 hours per day. Compare with metro buses that travel 85 to 100 miles, 5-8 hours a day. More miles and more hours, generate more impressions. In addition, our trucks are on the road and don't sit idle, while 50% of metro buses sit idle for 4 to 5 hours in bus terminals during non-rush hour periods.
"Advertise On Our Network Of All White Trucks"
TRUCK ADSŪ billboards on trucks are big and the bottom edge is about 4 feet above the ground so they can be seen by pedestrians and vehicle passengers at much greater distances, than ads on buses. The bottom edge of ads on buses are only 1 to 3 feet above the ground; making them difficult to see.

Let TRUCK ADSŪ provide you with the best mobile ad space available today. Decide which markets to target and what percentage of the population you need to reach (GRP). We can then provide you with a free TRUCK ADSŪ quote.