TRUCK ADS® 2020 MEDIA KIT

LOCAL AND LONG HAUL DELIVERY TRUCK ADVERTISING
Truckside Ad Display Options
STANDARD FACE WIDTHS
Vinyl Banners
Standard And Custom Widths Available
Full Color, High Gloss, 18 Ounce Vinyl Banners, 96" High
Standard face widths for truck side advertising campaigns are shown above. TRUCK ADS® Wrap Around Ads, Ads on Both Sides, Driver Side Ads, Passenger Side Ads and Tail Light Ads are installed on local delivery trucks (16 up to 26 feet long) and long haul delivery semi-trailers (48 or 53 feet long). Standard Banner Height: 96".
RESPONSE ADVERTISING WITH QR CODES
Outdoor mobile advertising should ask the viewer for a response. One option is to display a QR Code in the ad. The ad asks customers to use their phone to engage with your company. QR Codes link to web pages, make a phone call or even text a message. Retailer's can offer weekly coupons, store discounts, free products and more.

Next to the QR Code always indicate what the visitor will see when they scan it with their smart phone.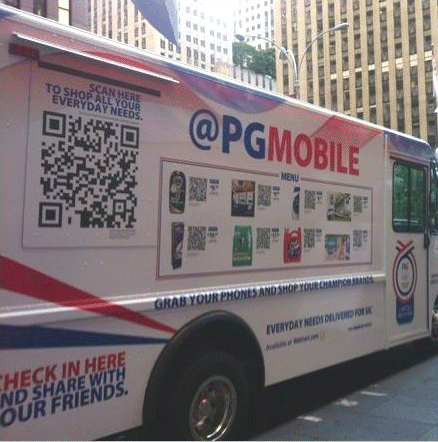 Use your QR Code viewer on your smart phone to see the webpage results from the code below.
TRY IT!
QR Code Example
Scan to Shop For Food and Cleaning Supplies Online.
TRUCKADS® Banner Sign Store
We accept creative advertising for most products and services. We willingly promote most businesses on trucks and reserve the right to refuse advertising that is deemed in non-compliance with our ads trucking guidelines and community standards. Single item sellers, visit our FAQ page to learn how to do it yourself.

Please visit TRUCK ADS® Online iStore to shop for truck side banners and frames. Thank you for visiting TRUCKADS®.
TRUCK ADS®