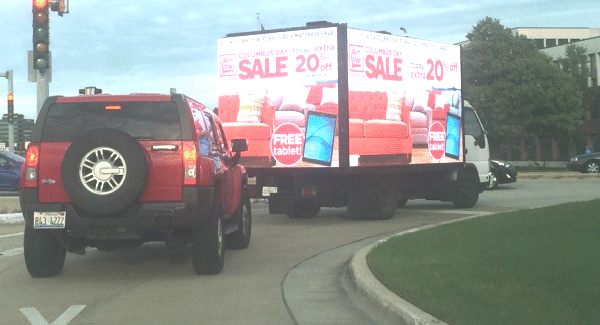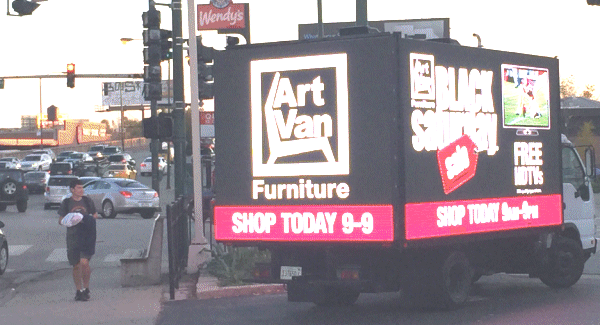 LED Display Sizes: 12' wide x 6' high up to 16' wide x 8' high
Mobile Billboards For Day time and Night time Events, Openings, Parades, Etc.
Click HERE for National Directory of Mobile Billboard Owners

POPULAR VENUES FOR LED SCREENS
Rock Concerts
OUTDOOR AIR SHOWS

Golf Tournaments


Sporting Events


Car Races (NASCAR®)




Horse Racing Tracks


Sponsored Events
Art & Wine Festivals


County State Fairs
JUMBO LED WALLS CAN BE ASSEMBLED FOR SPECIAL EVENTS

All LED Screens are high resolution and produce excellent video for live events, during daylight hours and throughout the night time.

DISPLAY SIZE OPTIONS ARE 7'X13', 8'X16', 9'X20', 9'X12', 9'X16', 12'X16' AND CUSTOM SETUP SIZES.
OTHER SPONSORED EVENTS TO DISPLAY LED SIGNS
NASCAR®
Track and Field Events
The Grammy®
Outdoor Movies
Flea Markets
Football Games
The Oscars®
Baseball Games
Golf Tournaments
The Emmy®
Country Music Festivals
Air Shows
Motorcycle Races
Winston Cup®
Arts and Crafts Shows
TRUCKADS® Banner Sign Store

We accept creative advertising for most products and services. We willingly promote most businesses on trucks and reserve the right to refuse advertising that is deemed in non-compliance with our ads trucking guidelines and community standards. Single item sellers, visit our FAQ page to learn how to do it yourself.

Please visit TRUCK ADS® Online iStore to shop for truck side banners and frames. Thank you for visiting TRUCKADS®

TRUCK ADS®